Publications
Home > Publications
Publications
Cultural activity cannot be viewed as suspended from the socio-political issues related to the masses. Hence a progressive cultural organization functions as a catalyst for social change by highlighting and reflecting these issues. It is necessary therefore to understand the nuances of the present day socio-political issues and one has to be ideologically equipped. Janasamskriti fully understands the importance of educating its cadres through various means. The organization along with its grass root level actions conducts periodical discussions on contemporary socio-political issues. Organizes Seminars and brings out publications.
Janasamskriti published a book in 2005 'Aikya Keralathile Aadya Sarkaar Roopeekaranavum Nettangalum' on a lecture by Dr. KN.Paniker on June 15 at New Delhi. Click here to read the Book
The Organization published a book containing the scholarly papers presented in seminar " Kerala, Toward a New Horizon" held in the year 2009, to mark the birth centenary year of EMS.
Quick Links
Photo Gallery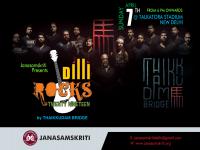 View All